We may be reaching new levels of wish-we-were-on-vacation anxiety, but pure, unadulterated summer bliss can still be in our near future. To help you get in a summer state of mind, max-bone Ambassador @gia_pacavapoo shares her tips for a day at the lake.
Hi, I'm Gia! I am a 6-month-old Red Cavapoo living in Northeast Pennsylvania. It's summertime here and nothing beats those summer days and nights at the lake. I spend my summer at our dock on our boat which is situated at a pet-friendly resort  (@silverbirchesresort) nearby. There is so much to do at this resort from lawn games to relaxing in the shade. I have met many fur friends there that I look forward to seeing each week.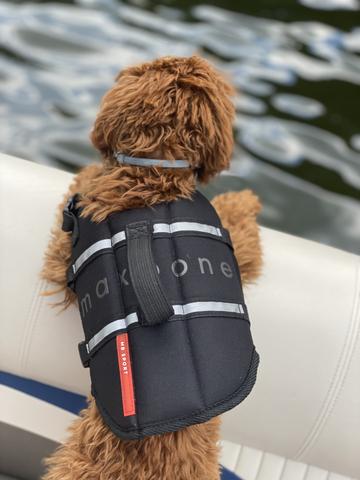 I make sure when I'm packing for the day I remember all the important items.  One of my main lake essential items is my Max Bone Life Jacket.  It is so incredibly comfy and will adjust in size for those certain days that I might've eaten too many treats. It is very stylish and I love feeling safe and secure especially when I decide to chase that duck or go for a swim, I know I'm covered.
It's always so much fun out on the boat. There's much to see, smell, and feel.  I love the breeze when we're driving across the lake I cannot get enough of the fresh air and seeing all the birds and ducks going by.