Continuing on from our previous posts about keeping your dog cool this summer we take a look at dog cooling coats.
Finally, summer is here! It may have felt like a long, cold winter, but warmer temperatures have already started to arrive. While you are probably enjoying the ability to break out your summer clothing, your dog doesn't have the luxury of swapping to a summer wardrobe when the mercury rises. Nevertheless, it's important to make sure you know what to do to keep your dog cool on particularly warm, hot or humid days.
Why it's important to keep your dog cool in summer?
Dogs don't sweat like we do. Instead, they pant to stop themselves from overheating, but as you might expect, this isn't always as effective as is needed, especially on very hot days. If they can't get their body temperature down, they could be at very real risk of heatstroke – a potentially fatal condition. Many dogs who suffer heatstroke experience organ damage that means that they have to take medications or follow a special diet for the rest of their lives.
Fortunately, there are lots of things you can do to help keep your dog cool and keep heatstroke at bay this summer. One of the most effective strategies is to use cooling wear. We are delighted to stock two highly effective cooling wear products.
Ruffwear Cooling Vest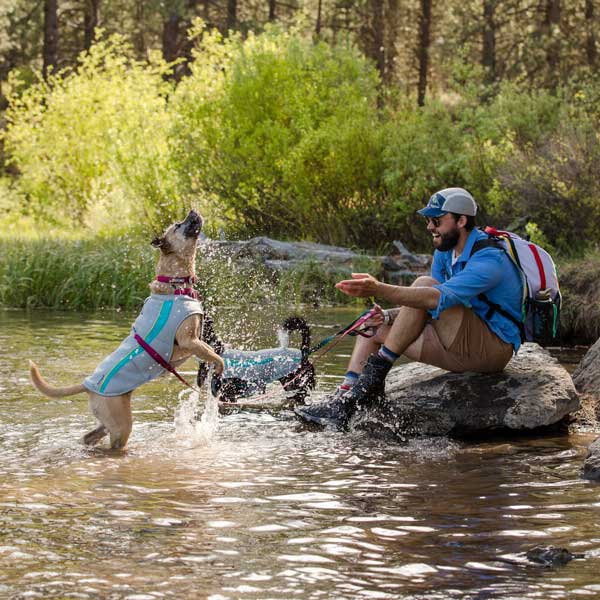 This clever cooling vestuses your dog's natural evaporation to keep their body temperature under control during the warmer days of the year. It has three layers. The top generates the evaporation and releases heat from your dog, the middle layer stores the water and the bottom layer lays cool against their coat. The Ruffwear cooling vest has the added bonus of automatically reflecting sunlight and UV rays, helping to protect your dog from the sun*. With a range of sizes available, there is a variety to keep every canine pal cool this summer.