With Easter right around the corner, are you wondering what you can do to celebrate the festivities? From egg hunts to Easter gifts, there are a multitude of things happening at Easter, especially if you have kids. So it's time you make your pets a part of this festival and include them in all the fun!
#1. DIY Easter Basket
Pet Easter basket ideas are a great way to involve your pet in your Easter fun! There are plenty of choices and ideas that you can come up with. Ideally, you can choose anything as long as it works, just like a container. However, remember that whatever goes into the container is pet safe. Also, you need to keep an eye on your pet when they are checking out their basket so that they do not run into any trouble.
#2. Play Easter Egg Hunt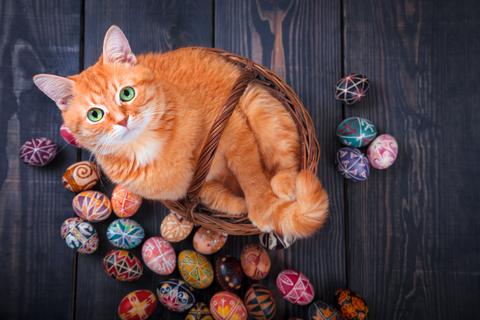 Have you ever played the exciting game of "hide and seek" with your furry baby? If yes, here is a pretty similar concept. The Easter egg hunt is the best way to motivate your pup to have a great time. Replace candy with treats that have a strong smell, and put them inside plastic eggs or small gift boxes if plastic eggs do not seem to be safe. Hide them in an area like under the cushion or in a corner and release the hounds! Your pup will follow his nose and find his treasures.