Our favorite place to stay is El Cosmico. You can choose to stay in a refurbished trailer, safari tents, tepees, yurts, or camp on your own! We had a great night laying in the hammocks looking up at the starry night waiting for comets to fly by. We chose to stay in one of the trailers and found it to be just as comfortable as any hotel room. Of course I have to travel along with my maxbone dragon for a good night's sleep!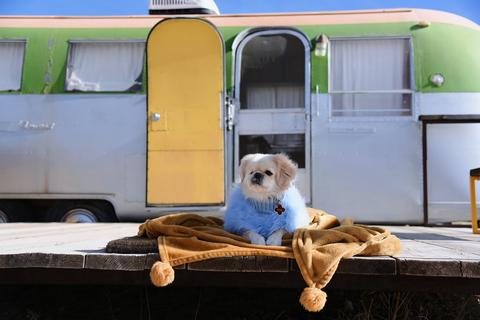 Funny thing about Marfa is that the town is really only booming Thursday- Sunday. On other days, the city is shut down and it's difficult to find places to eat or any open shops. It can feel like a ghost town.
We ate some amazing food! Not what you would expect from this tiny town! For the best burritos, stop in at Marfa Burrito. For amazing pizza, we ate at Para Llevar. They also have the best bread and pimento dip! The town also has some great little coffee shops. The Sentinel was dog friendly and has a cute area to relax!